CONNECT RMC series stunner power core is microprocessor, with MPWM , active componentIGBT module design, digital frequency conversion, D/A, instantaneous feedback, sinusoidssor , with pulse width modulation technology, the single machine capacity reach to 400KVA, to isolate the transformer output and increase the stability of the complete machine. The stunner has the characteristics of strong load adaptability, output waveform is good quality,simple operation, small volume, light weight, also with short circuit, overcurrent, overload, overheating protection to ensure reliable power operation.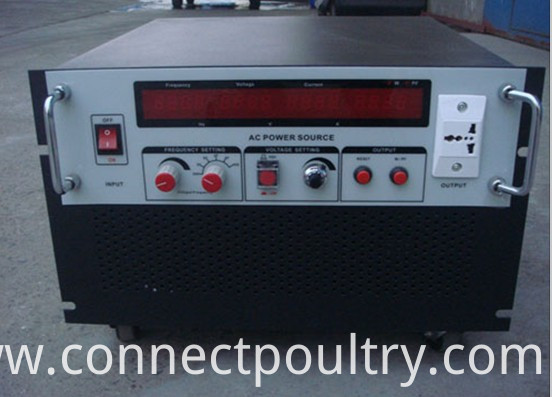 ONE EXAMPLE OF ONE MODEL SPECIFICATION:
Model ※ RMC-400WT
output ※ 400W
circuit model ※ (IGBT)MPWM pulse wide modulation impulse
input V ※ 220V±15%
input HZ ※ 50Hz/60Hz±5%
Output V ※ 0~110V continuous and adjustable
Output HZ ※ 400.0-800.0 Hz continuous and adjustable
Unloading stable rate ※ ≦1%
HZ stable rate ※ 0.01%
Waveform distortion rate ※ ≦2%
EFFICIENCY ※ ≧85%
OUTPUT GAUGE ※ HZ METER: 4 NUMERS OF RMS METER WITH RESOLUTION RATIO 0.1Hz
VOLTAGE METER: 4 NUMBERS OF RMS VOLTAGE METER,WITH RESOLUTION RATIO 0.1V
CURRENT METER: 4 NUMBERS OF RMS CURRENT METER WITH RESOLUTION RATIO 1mA
POWER METER: 4 NUMBERS OF RMS NUMBER POWER METER WITH RESOLUTION 0.1W
PROTECTION DEVICE ※ OVERLAOD, SHOR CIRCUIT,OVER VOLTAGE,OVER CURRENT AND ALARM SYSTEM.
WORKING ENVIRONMENT ※ TEMPERATURE -10~40℃ RELATIVE HUMIDITY : 0~90%
CONNECT STUNNER MODLES
| | | | | |
| --- | --- | --- | --- | --- |
| Model | Specification (mm) | Frequency(Hz) | Voltage (V) | Stunning time (seconds) |
| HWS-2000 | 2000 x 600 x1800 | 1-999 | 0-110 | 8 |
| HWS-4000 | 4000 x 600 x 1800 | 1-999 | 0-110 | 8 |
| HWS-6000 | 6000 x 600 x 1800 | 0-999 | 0-110 | 8 |
| LWS | 2000 x 600 x 180 | 0-50 | 0-110 | 8 |
Product Categories : Poultry Processing Equipment > Poultry Slaughtering Unit