POULTRY Compact Processing Line is designed for low capacity, and hygiene not so rigidly customers. Its combined lived birds hanging, killing, scalding, plucking, manual evisceration into one compact line.
COMPACT LINE Model: ZTYJ-I
Specification:Length*2200*2300mm
Voltage:Three Phrase 380V Frequency:50Hz (or optional according the clients locall power supply)
Theory
The technological process of AIO machine is: Manual hanging chicken—Stunning by high frequency stunner—Manual slaughtering— Bleeding by going through the bleeding trough—going into the scader—defeathering by the plucker—Manual eviscerating—Unloading by the chicken unloade The AIO machine is suitable for small capacity slaughtering factory. Normally the capacity is 500 pieces of chicken per hour.( we can also particularly design based on the requirement of the clients)
Main Information of AIO machine
The object of slaughtering : poultry
Bleeding time : 3-4 minutes
Scalding temperature : 58-60 ℃
Scalding time : 90 Seconds
Scalding modality : Steam/ Electricity
Defeathering time : 20-25 Seconds
Characteristic of The AIO machine
1. It is not necessary for the beam which is used for assembling the rail. And the clients do not need to assemble the overhead conveyor line.
2. It is not necessary for the assembling the water and the electricity and compressed air
3. The external water/electricity/compressed air just need to be joined up the connector of the AIO machine
Specification of the scalder
The scalder is made up of tank 、heating supply system、tympani system、overhead conveyor line、automatic temperature controlling system、automatic water replenishing unit and the close cover.
The tympani system is made up of blower and air tubes.
There is a overflow exit for the water. It is 100 mm downside to the tank
Main Information of the scalder
Specification :4200*500*2000 mm
Voltage : 380V+10%
Blower model :YX-61D-2-2.2KW
the pressure of the blower exit : 220 mbar
blast capacity of blower exit :265 m³/h
model of the angle valve : 63DN25 H25
model of the solenoid valve : 3V210-08-NO-A
model of middle relay : JZX-22FD/220 ~ 2Z-6
temperature control : AI708
pneumatic FRL : GC200-08-A-F-1
noise deadener : PT1/4
steam consumption : 0.1T/h
steam pressure :0.2-0.4MPa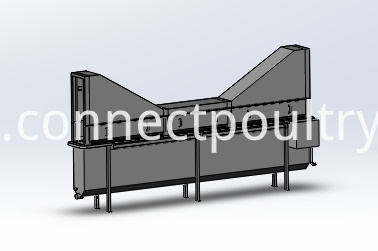 Specification of the plucker
The plucker is made up of frame、plucking boxes、up and down adjusting unit、manual open and close adjusting unit、incline angle adjusting unit
There are 2 kinds of pluckers: 4 rows of plucking boxes and 6 rows of plucking boxes. The quantity of the plucking nylon disc in every plucking box can be set by the different clients with different capacity of slaughtering
Main Information of the plucker
Model of plucking box motor :Y2-112M-6-2.2KW-B5
Total power : 13.2kw
bearing of the plucking disc :6305
plucking rate : 99%
damaging rate : <5%
The rotating direction of two adjacent plucking discs are opposite
The rotating direction of two thither plucking discs are opposite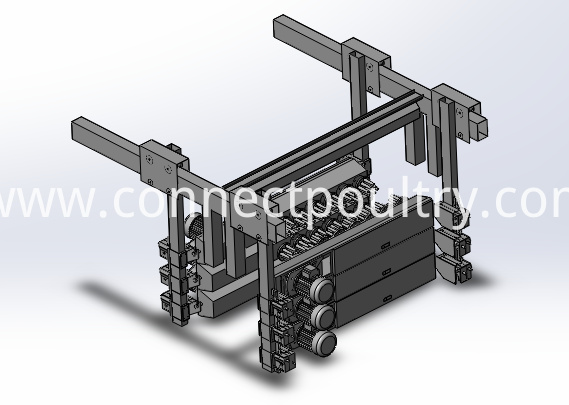 The fully automatic Poultry Processing Line including live Bird Reception Machine such as live birds crates stack and destack machine, transporting conveyor,crates washer, Poultry Slaughtering Unit of chicken water bath stunner, automatically killing machine, feather plucker, scalder, head cutter or puller, chicken hock cutter, shackle washer and automatic conveyor line transfer to Chicken Evisceration unit of Chicken Evisceration Machine such as opener, vent cutter, eviscerator, cropper, neck breaker, chicken inside and outside washer, and then transfer to Chicken pre-chilling unit of Water chilling or Air Chilling system, if the final product is whole bird will go to packing direct after chilling, if have cut-up parts, will processed by Chicken Cut-Up Machine, the chicken by-prdocuts is processed by its handling equipment, like for gizzards of gizzard de-fatter, peeler, cutter, after packing products will sent it to Chilling room , blast freezer , and transfer to cold room for storage.
Looking for ideal Chicken Slaughterhouse Compact Line Manufacturer & supplier ? We have a wide selection at great prices to help you get creative. All the Chicken Compact Slaughtering Equipment are quality guaranteed. We are China Origin Factory of Poultry
Compact Abattoir
Machine. If you have any question, please feel free to contact us.