Features and usage:
1 Greatly reduce labor work:high automatic working, the feeding, drinking, manure collecting, environment control all automatic control, greatly save the labor work.
2.High technology equipment: The cage all with hot dig galvanized, which corrosive resistance, long life time, strong and good performance, no rust.
3.Save investment: High raising density, save land.
4.Save the cost of medicine: the house is full closed system, which greatly control the environment of house which reduce the disease which taken from outside.
The breeder house is for the purpose of getting fertilized eggs for Hatchery, after hatching get chicks for broiler or layer house
The manure from layer house can be sent it to fertilizer plant by Manure Fertilizer Processing Equipment get oganic fertilizer for farming
The chicken feeding line in chicken farm equipment, is used in chicken breeder house, which automatically supply feed to birds.
The fertilizer eggs sent it to hatchery for hatching to get chicks for broiler or layer...
The chicken manure from Broiler House, layer house,breeder house, can be sent it to manure fertilizer plant to make it into fertilizer.
The ventilation fans in chicken farm can be use different type, like box fan, centrifuge fan, push-pull fan, batterfly cone fans, the air volume and size , and motor power are difference , according to chicken house status, different temperature, and weather conditions, different type of fans can be used. The fans working result in chicken house is direct on the chicken growing. If for broilers, the time life of it different according to clients locally market request, some broiler even only raise about 36 days will sent it to poultry processing plant, Poultry Processing Line . The dead chicken can be fired by incinerator at farm direct or sent it to Rendering Plant , Rendering Equipment , becomes chicken meat meal by Batch Cooker cooking.
The breeder house is for the purpose of getting fertilized eggs for hatchery, after hatching get chicks for broiler or layer house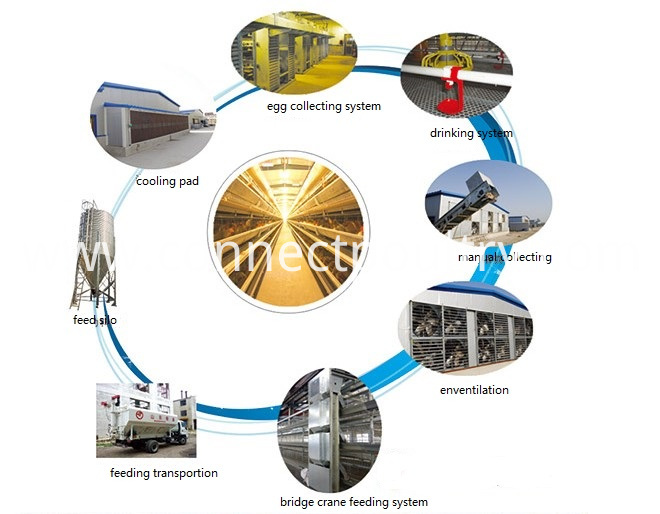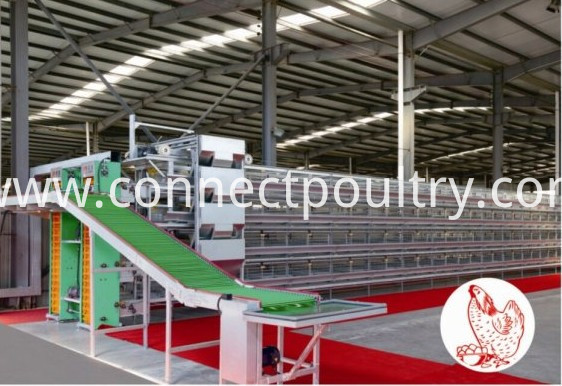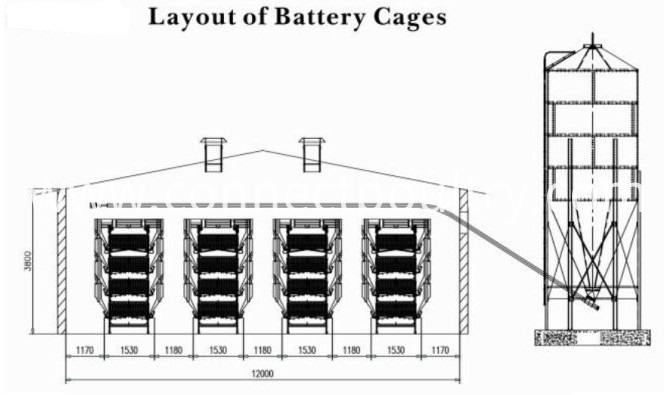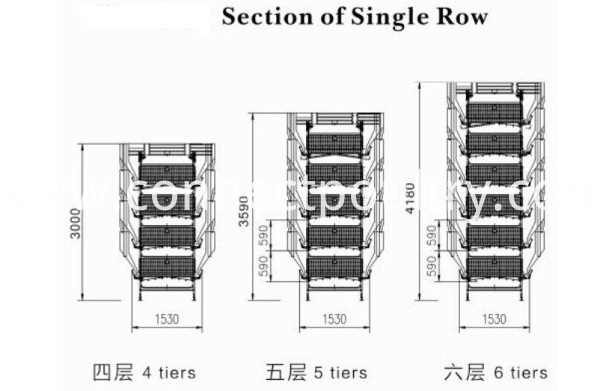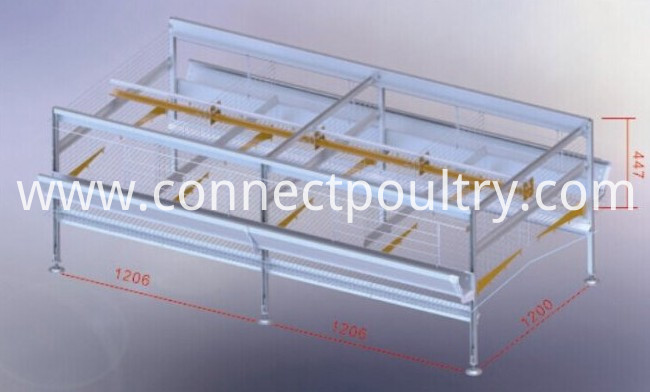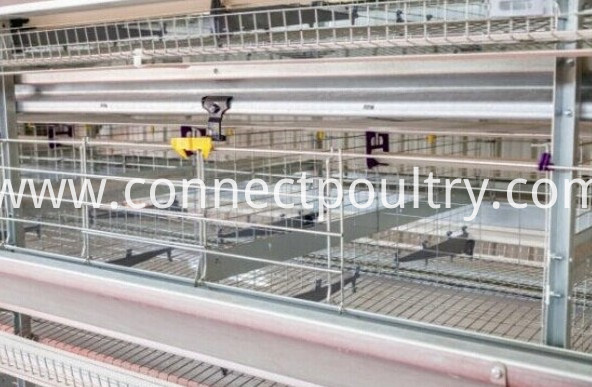 Cage is cold-drawn steel mesh welding and then hot dig galvanized, corrosion resistance, long life time. The bottom mesh is welded by steel mesh which wire Dia. Is 2mm,
and with re-enforced steel mesh, not only flexible, but also reduce the tired of layer, and reduce the egg damage rate.
The door of cage have key and lock which stop chicken run away, but stop the chicken waste the feed when eating.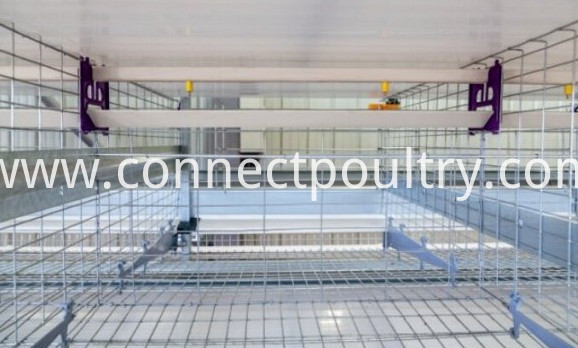 The square shape drinking tube fixed in the middle of cage to keep the each chicken inside cage drinking. There is a V shape water collecting trough to stop water drop to manure.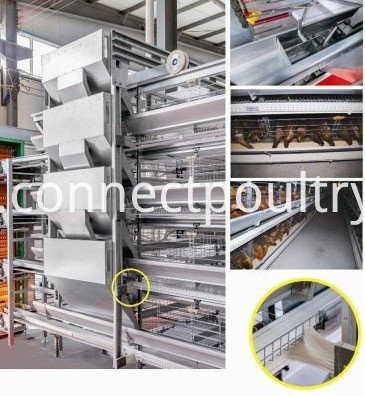 The layer cage system with bridge crane feeding system. The bridge crane go forth and back and put the feed averagely in trough, the feed amount can be adjusted. The whole process is directed by the program. The feed trough which with inner edge stop the chicken waste feed. There are feed scraper in each side of feed trough to scraping the feed which sediment in the bottom of trough.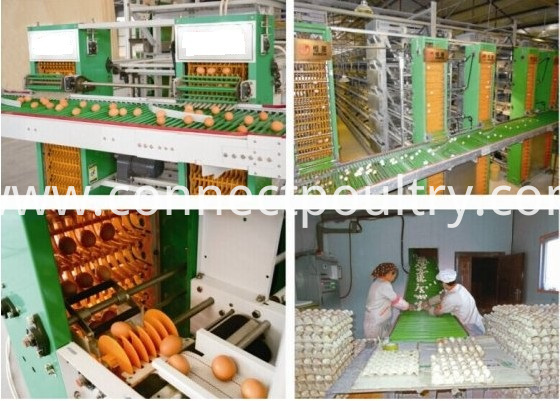 The cage system is working with egg collecting system which is with high technology and reasonable structure. The egg belt transfer the egg to front vertical egg collecting machine, during whole process, each tier eggs enter its correspond collecting tier, no crash for eggs. And the center egg collecting system transfer the eggs to egg
room. There is suffer connecting device from vertical egg collecting machine to center egg conveying system, which reduce the speed of egg moving and reduce the egg damage rate. There is a electric stunning wire above the belt to stop chicken peck egg.
Looking for ideal Layer Cage System Manufacturer & supplier ? We have a wide selection at great prices to help you get creative. All the Hen Cage for Egg Production are quality guaranteed. We are China Origin Factory of Hy Line Cage. If you have any question, please feel free to contact us.