Specification:
The Model HBW5300 have single position to clean boot, configured withinternal circulated water tank and nylon brushes, and an external 20L containerfor cleanser and disinfector, to clean the grease, plant oil, industrial oiletc on the surface of rubber boots.
In using, the user should put one foot to the clean position. Themachine is available to be installed in entry of factory.
Function &features:
l Removable, easy to change the installposition.
l Equipped with a 120W motor, low energyconsumption.
l External 20L container to contain thecleanser and disinfector
l Start upon human sensor induction, and stopupon time out
l Water supply controlled by water levelswitch, enable circulated use when water tank is full.



Working principle:
l Motor drive the 3 brushes on the cleanstage, the brushes bring water from water tank nether.
l User stand on the clean stage, the brushesrotate to clean the shoe soles.
l The cleanser and disinfector abstracted bypump to spray to the clean area.



Installation:
l Need a flat and smooth floor indoor, to put the machine.
l Need water supply and drainage pipe or hose to connect.
l Need power supply 220VAC.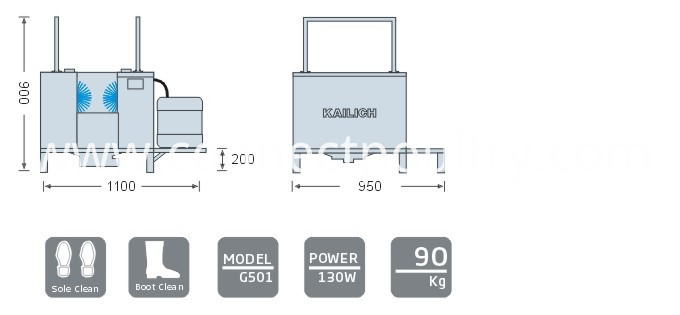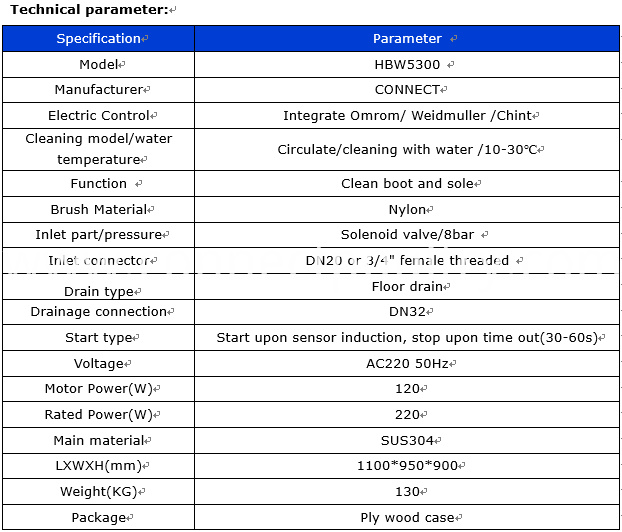 Product Categories : Poultry Processing Equipment > Hygiene Equipment