CONNECT crates washer is used for a special eqipment which used for cleaning the live birding transportation crates, it is one of must used equipment for large scale slaughterhouse. Our crates washer is simple in structure,reasonable, operation stable, low working problem happens and easy maintenance. The whole system is combined with frame, transmission system, driving chain, spraying system, and water filter device. The working speed is adjustable. The system working together with crates conveying system which greatly rise the automatic level, and reduce the labors' working.
The equipment is driven by the motor which through the driving chain wheel realize the working to chain.
The crate washer connected with the covneyor conveyor which transport the crates into washer. The inside washer equiped with spraying nozzel. The spraying device including two stages, which is washing and disinfection.
The water which after washing including some feature and dirt goes into filter system, and get the clean water which collection in the water collecting tank; The water recycling system for disinfection stage is same as wash stage. There is one block between the cleaning water and disinfection water.
The model of crates washer is as below:
Model

Specification (mm)

Capacity (BPH)

Pump Power (KW)

Steam consumption

(kg/H)

Water consumption

(liter/H)

CW-2000

3200 x 1100 x 1800

500-2000

3.5

100

500-1000

CW-4000

5200 x 1100 x 1800

2000-5000

4.0

200

500-1000

CW-4400

5600 x 1100 x 1800

5000

4.5

200

500-1000

CW-6000

7500 x 1100 x 1800

5000-10000

5.0

200

500-1000

CW-8000

7500 x 1100 x 1800

10000-12000

5.5

200

500-1000
The draft drawing of one example model of crate washer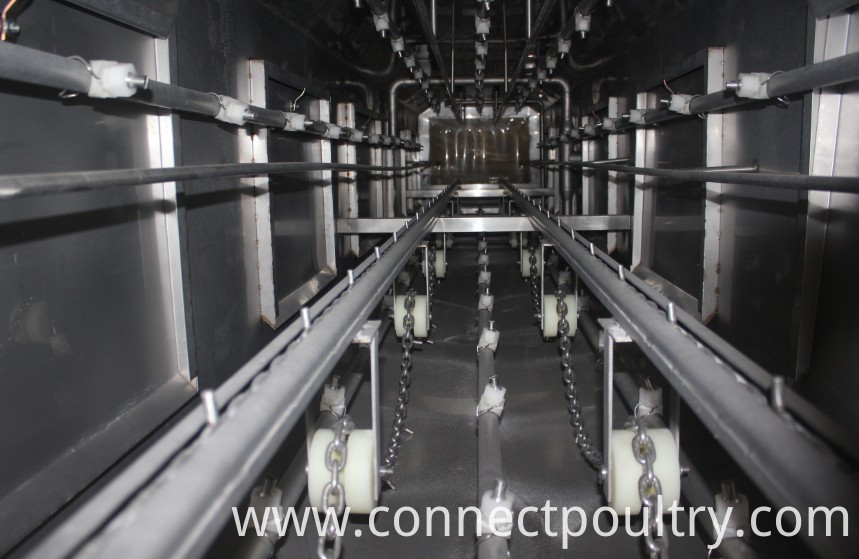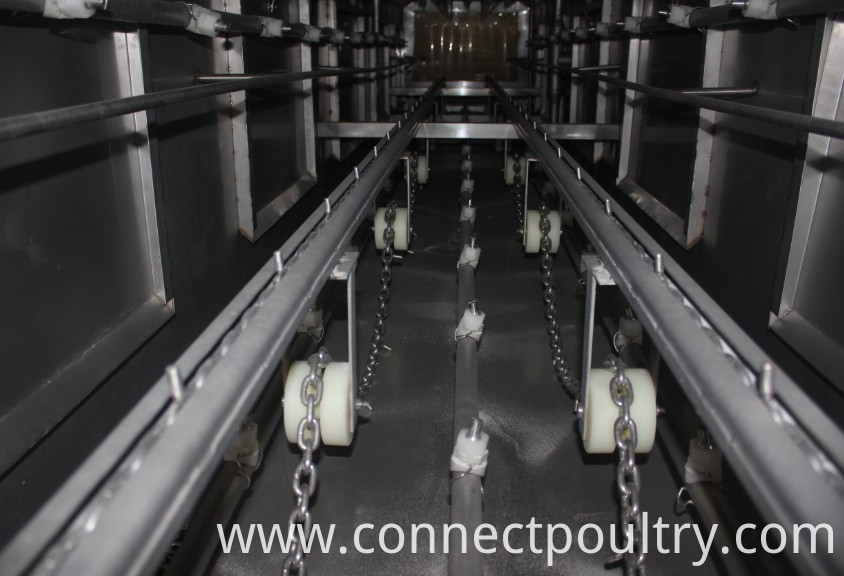 Product Categories : Poultry Processing Equipment > Bird Reception Machine